WHY USE TRANSPET SERVICES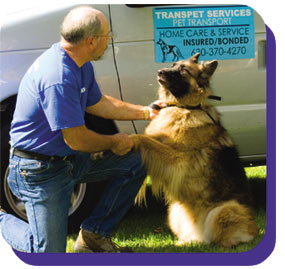 TRANSPET SERVICES is an animal loving business with a focus on the safety and security of your pet. We are American Red Cross Certified Pet First Aid, with fully equipped transport vehicles to assure the comfort and well-being of any size dog or cat.
Each pet is kenneled in a clean, sanitized unit. Each kennel is sanitized after every use. Kennels are secured to the transport vehicle frame, no use of tiedowns is allowed.
No more than three pets will be transported at one time. And, individual transport is available, upon request, at no additional fee!
Only late model vehicles with front/rear heat and A/C are used. Transports are equipped with stretchers, two sizes of gurneys, hip slings and stair ramps. Also, a holistic calming agent is available upon request.
TRANSPET SERVICES is fully insured and bonded.